The Briggait Glasgow
The Briggait is a magnificent building which had, except for temporary use, been empty for the best part of 20 years.
The Briggait now houses over 5,500 square metres of public and private space including:
45 studios for visual artists;
24 offices for cultural organisations;
4 shop-front units for creative industry companies;
A beautiful public Courtyard that dates back to 1873;
2 street-front exhibition spaces;
Meeting spaces & a heritage interpretation room;
An area set aside for a public café.
A great deal of work went into repairing the Briggait's historic fabric to make the building habitable again. The stunning 1873 Courtyard, perhaps the most impressive space architecturally, is open on a daily basis from Monday to Friday.
The areas of the building which house the private workspaces are open to the public at each monthly guided tour and through various events throughout the year.
Are you visiting the Briggait? Stay at The Argyll Hotel Glasgow: 0141 337 3313
---
For contact details and directions check the link: The Briggait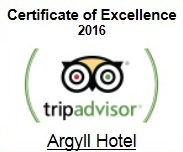 What our guests say
"First visit to Glasgow"
We have just returned from a 3 night 4 day break at the Argyll.We can not praise this hotel enough. On entering we were greeted by very friendly reception staff. Our room a double was very clean and tidy. The breakfast was wonderful and a member of staff Linda couldn't do enough.We could order the eggs we wanted and nothing was to much trouble.We would definitely recommend this hotel.
Janet C, TripAdvisor