Contact Us
Our Location
The Hotel is situated at the following address;
The Argyll Hotel
973 Sauchiehall Street
Glasgow
G3 7TQ
Tel: +44 (0)141 337 3313
Email for General Inquiries: [email protected]
Email for Event Inquiries: [email protected]
Mandatory Information
NOTE: Use this form for general enquiries only. To book online and check availability, please use the small form in the left-hand column of this page.
Cancellation Policy strictly at least 48 hours prior to date of arrival to avoid charge of full first night.
All major credit cards accepted except Diners.
Send a Message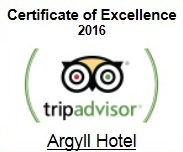 What our guests say
"First visit to Glasgow"
We have just returned from a 3 night 4 day break at the Argyll.We can not praise this hotel enough. On entering we were greeted by very friendly reception staff. Our room a double was very clean and tidy. The breakfast was wonderful and a member of staff Linda couldn't do enough.We could order the eggs we wanted and nothing was to much trouble.We would definitely recommend this hotel.
Janet C, TripAdvisor