Hotels near Glasgow University
Glasgow University is situated in the west end of Glasgow. The University of Glasgow was founded in 1451 and is the fourth oldest in the English-speaking world. Glasgow University is one of only seventeen British higher education institutions to be ranked amongst the top 100 universities of the world.
The mission of the University is to be a major research-led university operating in an international context with the following fundamental aims:
to provide education through the development of learning in a research environment;

to undertake fundamental, strategic and applied research;

to make a major contribution to local, regional, national and international communities through widening access and through working in partnership to support economic regeneration;

to sustain and add value to Scottish culture, to the natural environment and to the national economy.
The University's main campus is located on Gilmorehill, in the West End of Glasgow. The University also has a number of buildings elsewhere in the city; a facility at Loch Lomond; and the Crichton Campus in Dumfries, which is jointly operated alongside a number of other institutions.
The Argyll Hotel is within a short walk of Glasgow University and an ideal base for visitors to the University.
The hotel is also within easy reach of the Glasgow International College.
Glasgow Graduations Family Accommodation Deals : June/July Offers : Dates subject to availability)
Double/Twin and Family rooms En Suite Only £30.00 per person sharing
Includes Full Scottish Breakfast
Single Room En Suite Only £45.00
Includes Full Scottish Breakfast
We also have a Glasgow Graduations Menu available for celebrating Families
Glasgow and Strathclyde University Officer Training Corp (GSUOTC) : Members Discount at Sutherlands Restaurant
GSUOTC : Members Discount Offers at Sutherlands Restaurant and the Argyll Hotel
GSUOTC are a student club for Strathclyde and Glasgow Universities, who train regularly at weekend camps all over Britain. The club has also travelled as far as Austria, Africa and Lithuania and France.
The aim of this club is to prepare potential officers for life in the army, not all of them join up though.
Any member of Glasgow and Strathclyde University Officer Training Corp (GSUOTC), who presents their discount card on arrival at Sutherlands Resstaurant in the Argyll Hotell, will receive a free shot, free corkage on BYOB and three courses for £14.99.
The Hotel will also be pleased to offer a 10% discount on accommodation rates to card bearers and their families!
---
For contact details and directions check the link: The University of Glasgow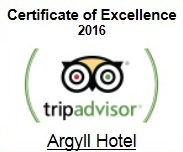 What our guests say
"First visit to Glasgow"
We have just returned from a 3 night 4 day break at the Argyll.We can not praise this hotel enough. On entering we were greeted by very friendly reception staff. Our room a double was very clean and tidy. The breakfast was wonderful and a member of staff Linda couldn't do enough.We could order the eggs we wanted and nothing was to much trouble.We would definitely recommend this hotel.
Janet C, TripAdvisor