Like many other online services, Argyll Hotel Glasgow may use 'cookies' to store and sometimes track information about you. A cookie is a small amount of data sent from the server, which is stored on your PC's hard drive. Cookies may be used to customise your service and may allow you to sign-in.
We use cookies to see where visitors are coming from and tracking user interests and behaviour. If you voluntarily provide personal details, we may use cookies to identify what pages and topics are of specific interest to you. Most major websites use cookies and their use is standard on the Internet. Most Internet browsers automatically accept cookies. However, you can change your settings so that you are notified whenever you are sent a cookie, or block them completely should you wish to do this.
How to delete and control cookies: www.aboutcookies.org
Please note, some services are only activated by the presence of a cookie and if you choose not to utilise this, a particular online feature may not work as intended.
If you have any questions or concerns about our use of your personal information please contact Argyll Hotel Glasgow.
The Data Protection Act 1998:
Argyll Hotel Glasgow is committed to your right to privacy.
Argyll Hotel Glasgow are committed to handling your information responsibly. We will not store or use your details for marketing purposes without your express permission and if at any time you wish to "opt-out" of such use then you may contact us via the enquiry form and we will remove your details from our mailing list.
Argyll Hotel Glasgow will never pass your details onto any third parties for marketing or sales purposes.
Registration details and site visitor information will only be used to deliver the services you have requested (eg Email Newsletters).
For further information on our Privacy Policy or to be removed from our mailing list, please contact us.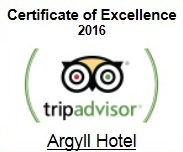 What our guests say
"First visit to Glasgow"
We have just returned from a 3 night 4 day break at the Argyll.We can not praise this hotel enough. On entering we were greeted by very friendly reception staff. Our room a double was very clean and tidy. The breakfast was wonderful and a member of staff Linda couldn't do enough.We could order the eggs we wanted and nothing was to much trouble.We would definitely recommend this hotel.
Janet C, TripAdvisor