Medieval Banquets in Glasgow
The Argyll Hotel welcomes you to join us in an evening of merriment! You will be banqueting with a feast worthy of kings and noblemen! Having a celebration? Our Medieval Banquet in The Argyll Hotel is ideal for an unforgettable birthday party, hen night, stag do or Christmas party.
Download: Medieval Banquet Info Pack
We will bring you entertainment and of course you will be expected to be at the call of the King at all times! What surprises may this bring?
It is the year 1471 and you have been summoned to dine with the larger than life, and slightly peculiar Lord and Lady of Argyll for an unforgettable evening of comedy, eating, drinking and medieval revelry. Come dressed in medieval attire and be "entertained" by our Master of Merriment, Lord and Lady, and the Fiery Wench while you hobnob with royalty from times gone past.
The evening starts at 6:30 and finishes 10:30 to 11pm
It's a fully interactive murder medieval banquet with professional actors.
During the three-course meal, we try not to interrupt too much as performances mostly occur before and after dinner
Speak to your personal Events Coordinator to personalize any details for your group!
To book, email us at [email protected]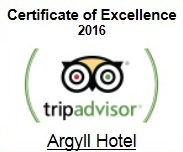 What our guests say
"First visit to Glasgow"
We have just returned from a 3 night 4 day break at the Argyll.We can not praise this hotel enough. On entering we were greeted by very friendly reception staff. Our room a double was very clean and tidy. The breakfast was wonderful and a member of staff Linda couldn't do enough.We could order the eggs we wanted and nothing was to much trouble.We would definitely recommend this hotel.
Janet C, TripAdvisor