Hotel Testimonials and Reviews
Here are a number of hotel testimonials and reviews from various websites and comments that have been left in our Guestbook in reception here at the Argyll Hotel.
Always a pleasure to stay at the Argyll, staff always extremely friendly, rooms always very clean and the hot & cold buffet breakfast an ideal start to the day.
Breakfast waiting staff helpful, friendly and cheery. Handily situated for Glasgow city (20ish mins walk to Central station, ), right in the West End area
We stayed at the Argyll Hotel because we were going to a concert at the Clyde Auditorium.
It ticked all the boxes being 10/15mins walk from the venue with loads of places to have an early evening meal and a lovely wine bar to have a drink on the way home. I have to say that for an hotel in the middle of a city it really was excellent value and we would definitely use it again.
I would like to praise the blonde lady who served me breakfast on 20/11/13.
She was most friendly and helpful and the breakfast she provided was excellent and was served by her in a very efficient and courteous manner. I felt she really cared about all the guests and this made a massive difference!. This lady is a brilliant ambassador for the Hotel and I was not surprised to learn from her that a lot of guests return regularly. A lot will do so because of her.
Great little hotel, obvious that the owners are involved, as it's well looked after, and there is attention to detail.
Breakfasts the best I've had, staying in this part of Glasgow – freshly cooked, by a chef who obviously cares and isn't just going through the motions of having to feed loads of people breakfast every morning. And the waiting staff for breakfast are friendly and really helpful.
Small but nice hotel within easy reach of what's going on in Glasgow, a bus stop for the airport just out side hotel, good food, Park Bar round the corner, staff make you welcome, 2nd stay there will use it again, Wee Hidden Gem springs to mind.
Stayed for one night on a business trip.
This was a really great place, room was comfy & clean, the hotel was located in the West End which is a great area for eating & drinking- I was spoilt for choice. I'd definitely stay here again next time.
Perfect location for our needs, stayed 3 nights. On street parking could be a hassle as you have to pay 8:00-6:00 Monday to Friday but we were there over the weekend. Room was very small but had everything we needed and was very comfortable and quiet. Great bed, lots of big fluffy pillows. Internet was free and worked fine once they reset the router. Bathroom was new, stand up shower, sink and toilet and lots of places to store your personal items.
Check in was pleasant and efficient. Room and en suite clean, tidy and furnished with the basics. Soft furnishings and bedding clean and attractive. Comfortable bed. Tea and coffee making facilities. Housekeeping staff excellent. Thank you.
The hotel provided me with the prefect base for my time in Glasgow. It had far more and better facilities that I would expect at the price. It was clean, the staff were friendly and helpful. Service could not be faulted. Room amenities were fine and its location, with easy access to town, was good. The restaurant does not open midweek but there are lots of good places to eat very close-by. Overall I would rate my stay as excellent.
We stayed here for 1 night as we had tickets to a concert at the SSE Hydro Arena. It was about 15 minutes walk away, and about 25 minutes walk into town (although taxis were cheap and efficient – it costs around a fiver to get to Glasgow Central train station) Check-in was efficient and friendly. We had a ground floor room at the back of the hotel which was very quiet as it was away from the main road. It was spotlessly clean and very nicely decorated. The bathroom was very modern, again very clean and the shower was wonderful. The bed was very comfortable. We paid £8.50 each for the buffet breakfast, and it was good value in my opinion. There was plenty of cereals, yoghurt, fruit juice, toast and jam, and the usual fry up items such as sausages, bacon, mushrooms, scrambled eggs, potato scones, beans, tomatoes, and black pudding. It was all replenished frequently and there was table service for tea & coffee. The restaurant staff were friendly and attentive. We were very impressed with the hotel and the staff, and would not hesitate to stay here again next time we visit this wonderful city.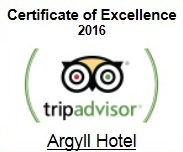 What our guests say
"First visit to Glasgow"
We have just returned from a 3 night 4 day break at the Argyll.We can not praise this hotel enough. On entering we were greeted by very friendly reception staff. Our room a double was very clean and tidy. The breakfast was wonderful and a member of staff Linda couldn't do enough.We could order the eggs we wanted and nothing was to much trouble.We would definitely recommend this hotel.
Janet C, TripAdvisor