Copyright
Unless otherwise stated, all information contained in this Website – including but not limited to images, photography and text – is subject to copyright laws.
Under no circumstances may any content of the Argyll Hotel Glasgow Website be resold or redistributed without prior written permission from Argyll Hotel Glasgow.
Please contact us if you require further information.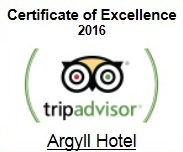 What our guests say
"First visit to Glasgow"
We have just returned from a 3 night 4 day break at the Argyll.We can not praise this hotel enough. On entering we were greeted by very friendly reception staff. Our room a double was very clean and tidy. The breakfast was wonderful and a member of staff Linda couldn't do enough.We could order the eggs we wanted and nothing was to much trouble.We would definitely recommend this hotel.
Janet C, TripAdvisor