Access Statement
The Argyll Hotel treats all our guests with disabilities as equals, according to each need and within the restraints of us being a located in a Victorian building.
We strive to improve access to all guests and welcome your suggestions.
You can download our access statements here:
Argyll Hotel download access statement
Argyll Guest House download access statement
Our best suggestion is for you to contact us directing by email and telephone, and we'll do our best to advise you.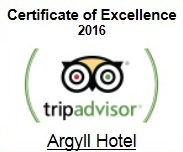 What our guests say
"First visit to Glasgow"
We have just returned from a 3 night 4 day break at the Argyll.We can not praise this hotel enough. On entering we were greeted by very friendly reception staff. Our room a double was very clean and tidy. The breakfast was wonderful and a member of staff Linda couldn't do enough.We could order the eggs we wanted and nothing was to much trouble.We would definitely recommend this hotel.
Janet C, TripAdvisor